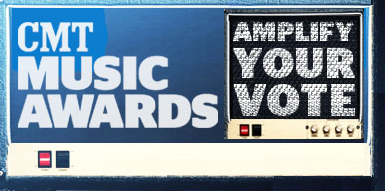 A lisa de pré-indicados ao CMT Music Awards 2010 foi anunciada e Taylor recebeu 3 indicações, dentre elas vídeo do ano! Acesse o CMT.com, cadastre-se clicando aqui e vote na Taylor quantas vezes puder!
A lista final de indicados será anunciada dia 11 de Maio, com 4 finalistas em cada categoria, exceto os indicados ao prêmio de Vídeo do Ano, que serão anunciados no início da premiação, no dia 9 de Junho. Veja a seguir as pré-indicações da Taylor:
• Vídeo Feminino do Ano – "You Belong With Me"
• Vídeo do Ano com Colaboração – "Best Days of Your Life"
• Vídeo do Ano – "You Belong With Me"
Roman White, diretor do clipe You Belong With Me também está concorrendo a Diretor do Ano, então vamos votar nele também!